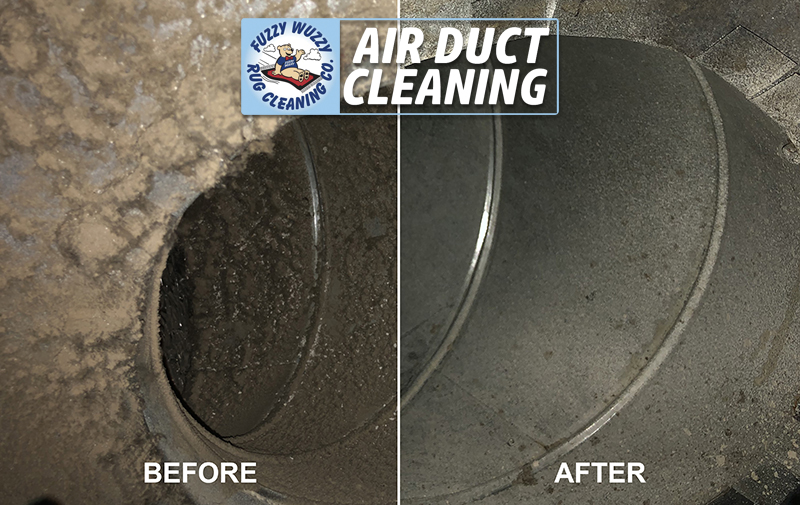 The importance of your home's indoor air quality demands nothing less than the best air duct cleaning service from Fuzzy Wuzzy, the service provider you can trust. Our training, resources and experience have made us the No. 1 choice for duct cleaning in the greater Seattle area.
Because ductwork is usually out of sight behind walls or above ceilings, maintenance of air ducts can be easy to neglect. Many people forget to have routine air duct cleaning service, which has the potential to cause long term problems with indoor air quality.
Call Fuzzy Wuzzy today if you have any questions about how we can improve your indoor air quality: 206-525-0058.
Why Call Fuzzy Wuzzy for Cleaning of Air Ducts?
Fuzzy Wuzzy is the premier provider of duct cleaning in western Washington. Our trained and professional technicians perform thorough cleaning of air ducts, dryer vents and furnaces, eliminating contaminants in your ductwork and indoor air, like dust, mold and bacteria.
Duct cleaning also helps prevent excessive home dust and allergies by removing those irritants from the walls of your ductwork. You will literally breathe easier with clean ducts.

According to the National Air Duct Cleaners Association (NADCA), up to 40 pounds of dust is created each year in your home. Your HVAC system recirculates air 5-7 times per day, meaning dust in the home and other air pollutants are pulled into your air ducts, attaches to the walls and builds up over time.
For free air duct cleaning estimate call us at 206-525-0058.
Our Air Duct Cleaning Process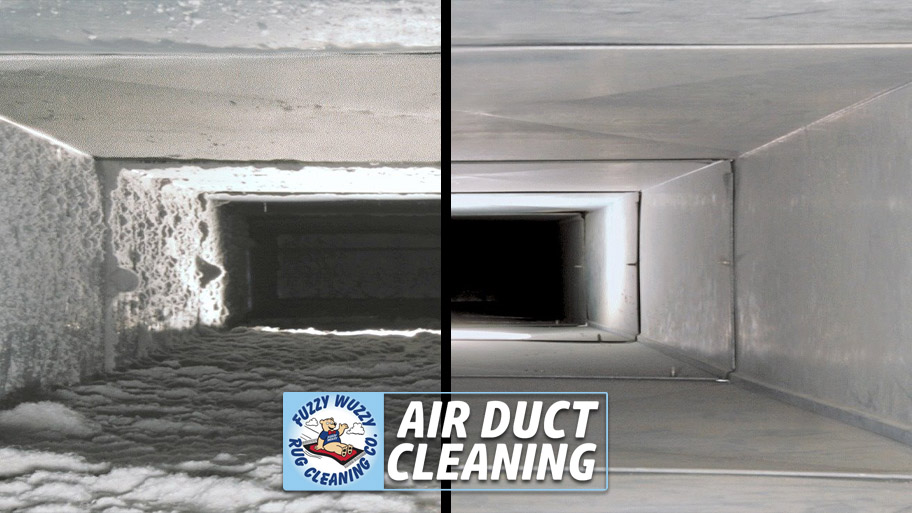 Fuzzy Wuzzy follows the standards set forth by the National Air Duct Cleaners Association (NADCA) when performing air duct cleaning.
Our professionally trained air duct cleaning technicians use the following process:
1. A Fuzzy Wuzzy technician(s) will show up to your home on time, in a Fuzzy Wuzzy branded vehicle.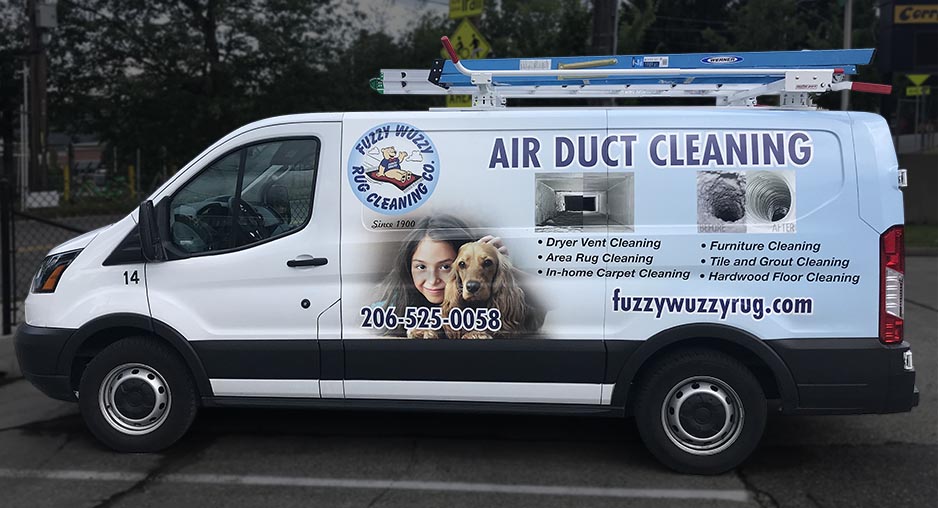 2. The technician will greet you and review the services you have requested, explaining our duct cleaning process in detail.
3. The technician will ensure that your home is prepared for air duct cleaning, ensuring that all vents and returns are accessible, and placing protective floor covers and corner guards where necessary.
4. The technician then carefully seals the vents and returns. Your air conditioning ducts are placed under negative pressure to maximize air flow.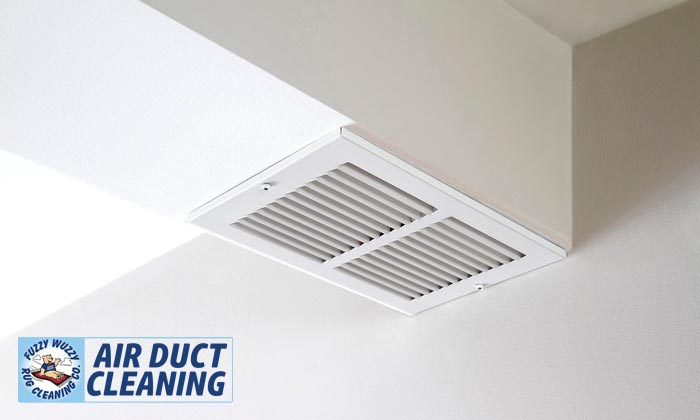 5. A powerful vacuum device is connected to your main trunk line, which collects dirt, dust, mold and other contaminants that become dislodged during the cleaning.
6. High pressured duct scrubbers are inserted into the ductwork to dislodge dirt and debris.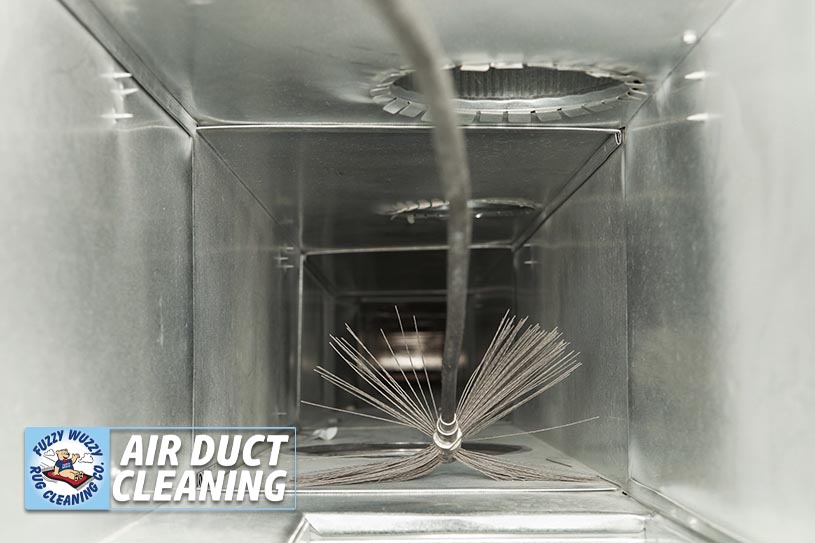 7. After completion, the technician will seal the access hole in your main trunk line with a metal access panel (done by NADCA standards).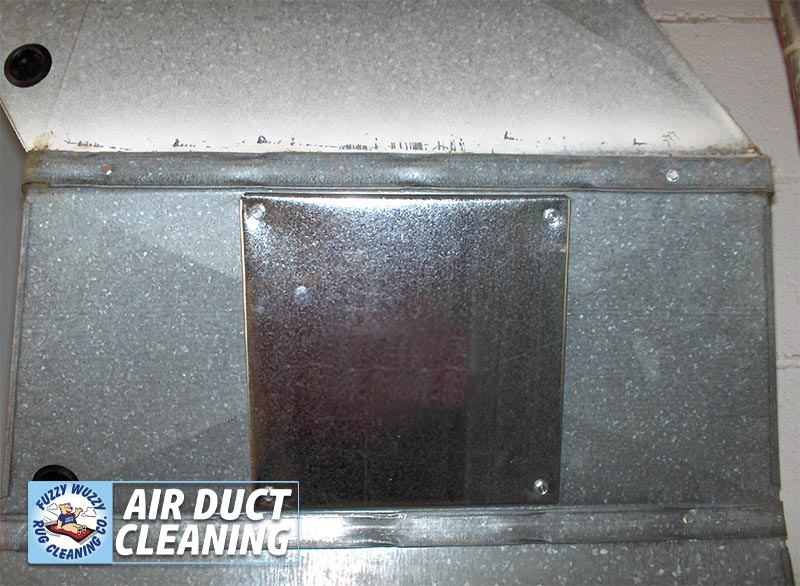 8. A Fuzzy Wuzzy Air Duct Cleaning Service Label Sticker will be placed on your system by the technician and the date of next service will be provided.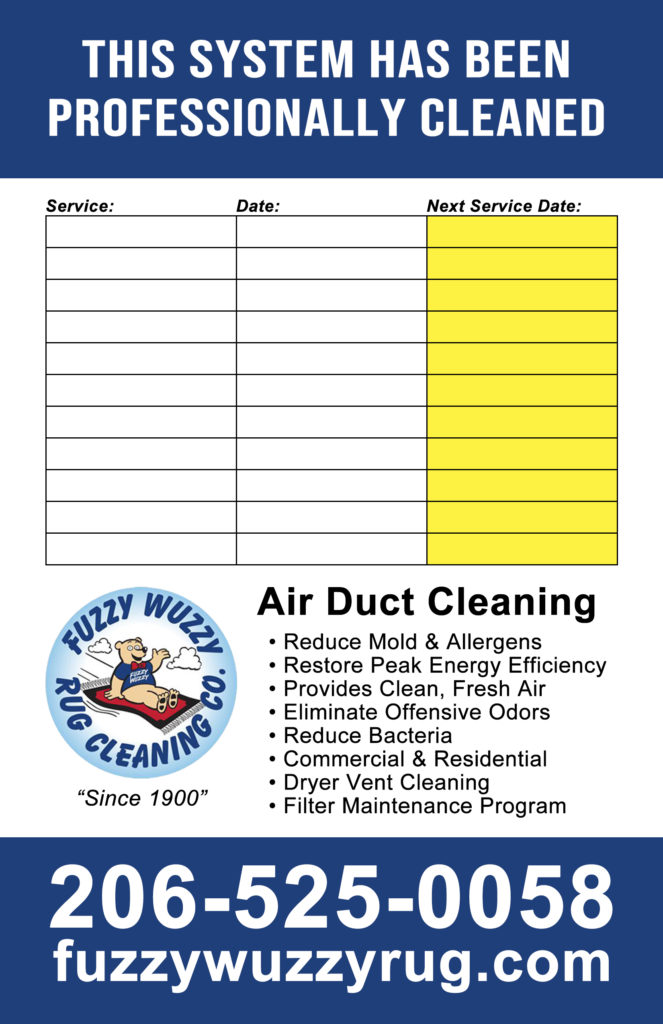 9. The technician will review the work and answer any questions that you may have.
10. The technician will thoroughly clean up all materials, pack up, and leave your home fresh and clean.
For free air duct cleaning estimate call us at 206-525-0058.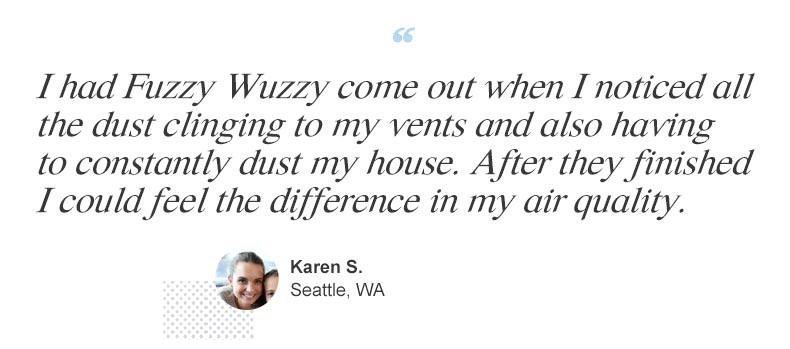 Why Have Your Air Ducts Cleaned?
Over time, household dust, allergens, airborne pollutants and contaminants can accumulate on the inside of your home's air ducts.
Here are the top three reasons you should have your air ducts professionally cleaned:
Health.

Air ducts accumulate dust, debris, and toxins. Cleaning your air ducts removes these harmful and dangerous particles from entering and circulating throughout your home, allowing you to breathe easy.

Efficiency.

Dust and debris restrict and reduce the flow of air throughout your home, causing longer run time for both heating and cooling systems. Removing those restrictions will reduce the run time and save you money.

Cleanliness.

You work hard to keep your home and furnishings clean. Don't let your heating and cooling system work against you. Clean air ducts mean less dusting, easier breathing and a healthier environment.
For free air duct cleaning estimate call us at 206-525-0058.
Dryer Vent Cleaning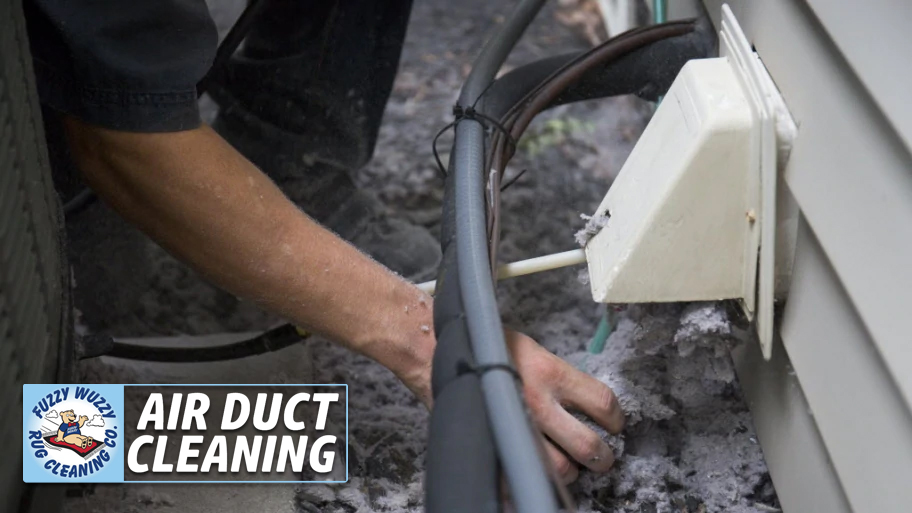 Clothes dryers are a necessity in most homes, but poorly maintained or improperly installed vents can quickly become a fire hazard. In fact, the U.S. Fire Administration estimates that almost 3,000 fires are caused by dryers each year. The leading cause of those fires (34%) is poorly maintained dryer vents.
Dryer vents accumulate dust, fiber and lint. When this material builds up, it is highly flammable and can compromise a system's airflow. A clogged vent causes the system to overheat, and potentially start a fire.
Your dryer vent may need cleaning if you witness any of the following issues:
Clothes come out of the dryer excessively hot
It takes more than one cycle to dry clothes
There is more lint than usual in the filter
Clothes have a musty odor after drying
The laundry room is unusually hot
There is debris in the outer dryer vent opening
Fuzzy Wuzzy uses special equipment that is designed to clean dryer vents. If you notice any of the above problems, call our professional dryer vent cleaning company for help.
Fuzzy Wuzzy duct cleaning technicians can clean, repair and seal your air ducts. With air duct cleaning, you can breathe easy knowing that your system is working at its best, and your home is safe.
For a free air duct cleaning Seattle estimate call us at 206-525-0058.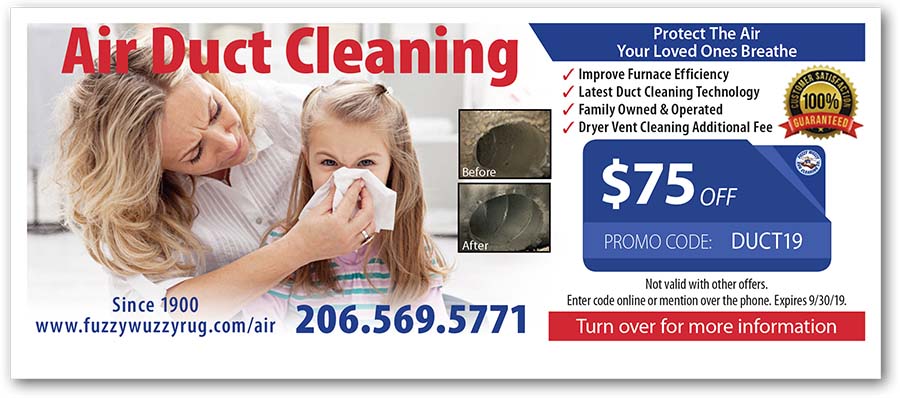 Redeem your offer online or call 206-525-0058 for a free quote.
Promo Code: DUCT19
Air Duct Cleaning Seattle FAQ
Why is it important to maintain clean air ducts?
Over time, dirt, dust, debris, allergens and other harmful particles collect in your home's air ducts. This strains the operation of your HVAC system, and your health, well-being and energy bills could suffer in the process.
What do I need to do to prepare my home for duct cleaning?
Make sure that there is space cleared around the HVAC system and the registers in your home. That's really all you need to do. While the cleaning is being done, the best thing you can do is stay out of the way to ensure your safety and let the technician focus on the job.
How long will it take to clean out my air duct system?
Fuzzy Wuzzy technicians are extremely thorough. For a standard size home, an air duct cleaning job takes 2.5 to 4 hours to complete (2,000-2,500 sq ft.).
How often should I have my air duct system cleaned?
The National Air Duct Cleaners Association (NADCA) advises cleaning of air ducts every 4-7 years. But if someone in your household has asthma, allergies, or respiratory concerns, or you notice higher energy bills or excessive dust, it can be more frequent.
Will cleaning my HVAC system reduce our home energy bills?
Research by the United State Environmental Protection Agency states that cleaning your HVAC system allows it to run more efficiently. Efficient systems operate by using less energy, lowering your monthly bill. A clean and efficient system is less likely to break down and will have a longer life span.
Will cleaning out my air duct system create a mess in my house?
No. Fuzzy Wuzzy technicians use a labor intensive cleaning method, making sure your entire system is cleaned and inspected prior to restarting your system. Make sure whatever company you hire cleans the "entire system."
How do you clean an air duct system?
For a full step-by-step look at our air duct cleaning Seattle process, click here.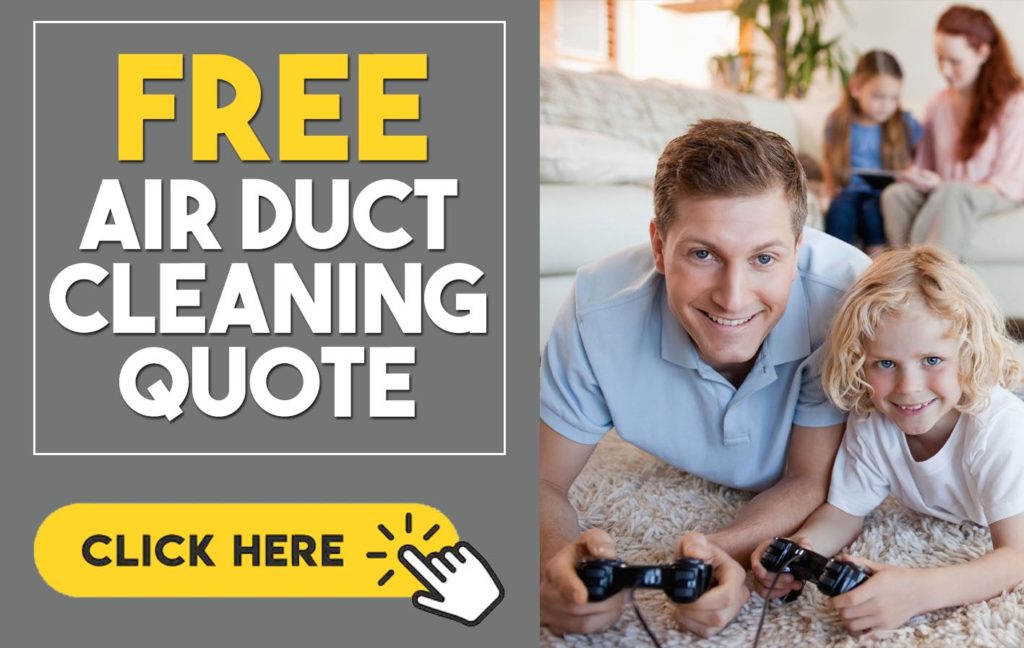 What kind of antimicrobial cleaning products do you use?
We only use green cleaning products to sanitize or disinfect your air duct system. These are environmentally safe for you, your kids and your pets and are effective against a wide range of mold and bacteria. Fuzzy Wuzzy uses the same products used in hospitals, schools, government, etc.
Will your quoted price change once you arrive and start the job?
No. All our work quoted over the phone or via email is the price you pay. If the duct cleaning job takes longer than expected or there are difficulties, we will not charge any additional fees.
How do I know if my HVAC duct system was cleaned properly?
After the cleaning is complete, a Fuzzy Wuzzy technician will allow you to visually inspect your system. You will be given full access to see that the job was completed to your liking.
How do I receive an estimate and schedule to have my home's air duct system cleaned?
You can give us a call at 206-525-0058 or fill out a form for a free quote.
Serving Western Washington
With eight locations throughout Western Washington, Fuzzy Wuzzy offers unparalleled convenience and service to our customers. If you have any questions or comments about our air duct cleaning Seattle service, contact us online or visit us in person.
For free air duct cleaning estimate call us at 206-525-0058.
Air Duct Cleaning Quote
Thank you for your interest in air duct cleaning Seattle. We look forward to serving you! Please provide us with the information below. A Fuzzy Wuzzy team member will contact you shortly with a free estimate.
Seattle Air Duct Cleaning Review
This was my first experience as a customer of Fuzzy Wuzzy Rug Cleaning Company. The technician was a nice guy. He was very polite. He arrived at the specified time. He did a good job. I've been self-employed for forty years, so when I have a good experience with a company, it sticks in my head. The service was excellent and I would recommend Fuzzy Wuzzy Rug Cleaning Company to anyone.