Fuzzy Wuzzy duct cleaning technicians can clean, repair and seal your air ducts. With air duct cleaning, you can breathe easy knowing that your system is working at its best, and your home is safe.
Why Have Your Air Ducts Cleaned?
Over time, household dust, allergens, airborne pollutants and contaminants can accumulate on the inside of your home's air ducts.
Here are the top three reasons you should have your air ducts professionally cleaned: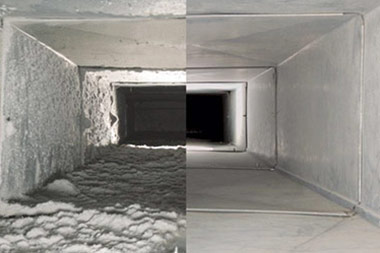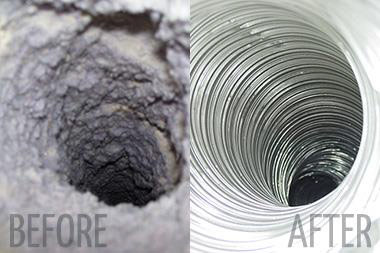 • Health. Air ducts accumulate dust, debris, and toxins. Cleaning your air ducts removes these harmful and dangerous particles from entering and circulating throughout your home, allowing you to breathe easy.
• Efficiency. Dust and debris restrict and reduce the flow of air throughout your home, causing longer run time for both heating and cooling systems. Removing those restrictions will reduce the run time and save you money.
• Cleanliness. You work hard to keep your home and furnishings clean. Don't let your heating and cooling system work against you. Clean air ducts mean less dusting, easier breathing and a healthier environment.
When Should Air Ducts be Cleaned?
The Environmental Protection Agency states that there are three scenarios where your home's air ducts should be cleaned:
If your air ducts have excessive amounts of dust, debris and/or particles are actually released into the home from your supply registers.
If there is mold growth on components of your heating and cooling system (HVAC).
If your air ducts are infested with rodents.
Air ducts stretch throughout the entirety of your home or business. There are many sections and parts that are hidden within the walls, and only a certified and experienced technician can properly do the job. Go with the professionals at Fuzzy Wuzzy for your air duct and furnace cleaning needs.
Our Air Duct Cleaning Process
Air duct cleaning can be a tricky process. When done incorrectly, air duct cleaning can actually harm your indoor air quality. For the best cleaning every time, Fuzzy Wuzzy's licensed duct cleaners follow this step-by-step process.
Thorough inspection of your heating and cooling system.
Carefully seal each register to contain contaminants.
Install negative air containment system to extract all dust and debris during cleaning.
Remove and clean each register and thoroughly clean the attached ductwork back to the heating and cooling unit.
Thoroughly clean and inspect the furnace, fan, and filter system.
Test system for proper operation and efficiency.
Many Fuzzy Wuzzy customers opt for several of our additional services, which include: Filter replacement and maintenance program, system sanitizer and disinfectant, dryer vent cleaning, and air conditioner cleaning.
Dryer Vent Cleaning
Clothes dryers are a necessity in most homes, but poorly maintained or improperly installed vents can quickly become a fire hazard. In fact, the U.S. Fire Administration estimates that almost 3,000 fires are caused by dryers each year. The leading cause of those fires (34%) is poorly maintained dryer vents.
Dryer vents accumulate dust, fiber and lint. When this material builds up, it is highly flammable and can compromise a system's airflow. A clogged vent causes the system to overheat, and potentially start a fire.
Your dryer vent may need cleaning if you witness any of the following issues:
Clothes come out of the dryer excessively hot
It takes more than one cycle to dry clothes
There is more lint than usual in the filter
Clothes have a musty odor after drying
The laundry room is unusually hot
There is debris in the outer dryer vent opening
Fuzzy Wuzzy uses special equipment that is designed to clean dryer vents. If you notice any of the above problems, call our professional dryer vent cleaning company for help.
Schedule Online Now!
Serving Western Washington
With eight locations throughout Western Washington, Fuzzy Wuzzy offers unparalleled convenience and service to our customers. If you have any questions or comments about our air duct cleaning service, contact us online or visit us in person.
Seattle Air Duct Cleaning Review
This was my first experience as a customer of Fuzzy Wuzzy Rug Cleaning Company. The technician was a nice guy. He was very polite. He arrived at the specified time. He did a good job. I've been self-employed for forty years, so when I have a good experience with a company, it sticks in my head. The service was excellent and I would recommend Fuzzy Wuzzy Rug Cleaning Company to anyone.