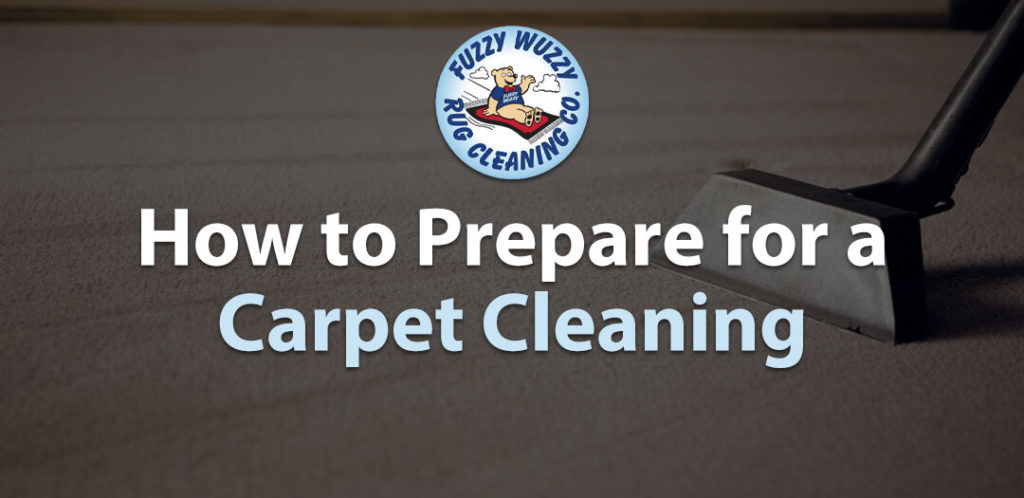 Have your carpet cleaning with Fuzzy Wuzzy scheduled? Great, you're on your way to fabulous looking floors. You've made a smart choice. There is no right or wrong way for how to prepare for carpet cleaning.
Now you're wondering what you should do to prepare for our arrival. We've got you covered. It's been our experience over the years that many customers OVER prepare when getting ready for a carpet cleaning, as they are eager to help our technician do the best job possible.
We want you to have the best experience with the least amount of stress during our visit. To accomplish this, we ask for a little bit of help prior to our visit.
Guide to Preparing for Carpet Cleaning
Vacuum High Traffic Areas
You may be wondering: "Should I vacuum before carpet cleaning?"
If your carpets are particularly dirty and there is visible dirt on the floors, we recommend that you vacuum before we arrive. Removing any potential dirt and debris prior to our steam cleaning (hot water extraction) helps the technician focus on the deep down dirt.
Remove Fragile Items
While Fuzzy Wuzzy's technicians are extremely courteous of your home, we ask that you remove or secure all fragile or breakable items in the vicinity of the carpet cleaning. Those items may include:
Porcelain
Knick-knacks
Fine china
Tabletop lamps
Collectibles
Valuable memorabilia
Secure Draperies
If you have floor length draperies or curtains, we ask that you tie up or secure those off the carpet. This prevents them from contacting the damp carpets during the cleaning and drying process.
Clear Small Furniture
Another common question we get: "Do carpet cleaners move furniture?"
Things go smoother if you have removed as many small pieces of furniture as you can. Store it in a separate room where there is no carpet. Pieces of furniture you should move include:
Dining chairs
Ottomans
Coffee tables
Bean bags
Toys, wires, accessories, etc.
Fuzzy Wuzzy technicians can assist you in this process if the furniture is too heavy to move yourself, a service we perform at no extra charge. We clean around larger pieces of furniture.
Make Note of Stains & Smells
Prior to the cleaning process, our technician will perform a walkthrough with you to discuss your cleaning needs. This is your opportunity to point out any particular stains or odors that you have noticed.
Our technicians are trained in specialized spotting procedures. We have a sharp eye for stains. But it's your home, so speak up when discussing tough-to-get spots.
Secure Pets
This is a big one. While our technicians are pet-friendly, we ask that you have your dog or cat away from the carpeted areas during the cleaning and drying process.
Fuzzy Wuzzy accepts no responsibility for pets getting loose — your door will be open to allow for hoses and equipment during your cleaning — and we will not enter your home if no one is present and dogs are loose.
The entire process is simplified if you make arrangements for your pets prior to our arrival.
Free Up Parking
Fuzzy Wuzzy uses truck-mounted carpet cleaning, utilizing high-pressure hot water coming off the vehicle. While there are portable systems available to use in high-rise apartments, etc., we prefer to use our truck mount and park as close to an entry door as possible.
We understand that you may not have control over the parking situation at your residence. But a close and convenient spot can make our technician's job a lot easier, and let them spend more time on your carpets.
Need Carpet Cleaning? Contact Us
With Fuzzy Wuzzy Rug Cleaning Company you will be amazed at the difference in your carpets. Our customers comment over and over again how amazed they are at how clean their carpets look compared to when they had it cleaned by other companies. This difference can be attributed to the attention and care we give to the carpet in each home.
If you're interested in seeing how we can transform the state of your carpets, contact us online or call 206-525-0058 today.