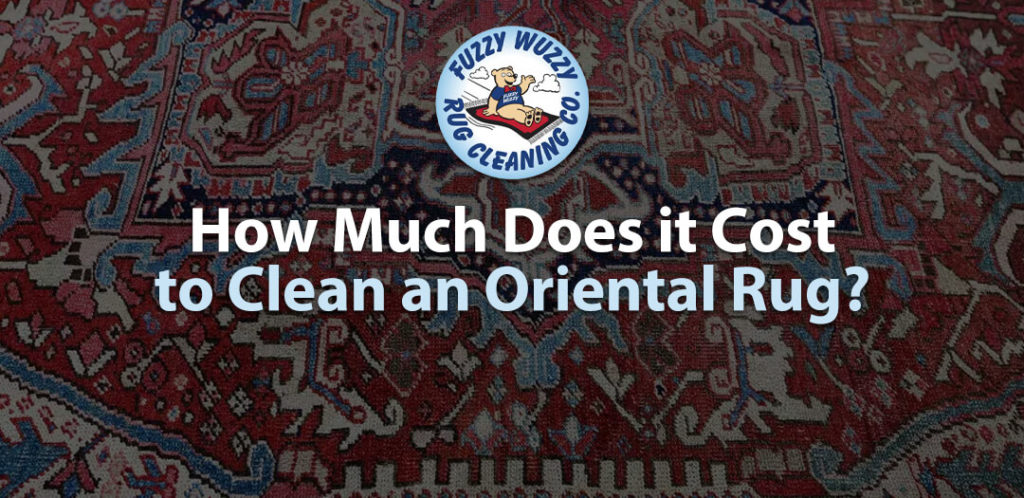 When it comes to Oriental rug cleaning, there are two primary factors that customers must consider: cost and quality.
"How much does Oriental rug cleaning cost?" many of Fuzzy Wuzzy's potential customers ask.
Depending on where you live, there may be several cleaning companies that advertise rug cleaning services. Not all are created equal, and their prices reflect those differences.
Many companies clean rugs as an additional service, while others have devoted their entire business to treating rugs with care. When you consider these factors, the choice should be simple.
Formula for Finding Oriental Rug Cleaning Cost
Our technicians, like most in the industry, price our Oriental rug cleaning services based on the rug's square footage. The length of the Oriental or Persian rug is multiplied by the width of the rug to find its total square feet.
A rug that is 8 feet wide and 10 feet long is 80 square feet. We then take 80 sq ft and multiply it by the square footage pricing. In this example, let's say the cost per square foot is $2.50.
That makes the total cost of cleaning $200. Keep in mind that our technicians round inches up or down, so prices may vary slightly.
Look at the back (usually on a corner) of your rug for a tag or sticker indicating the fiber content of the rug. The size may also be included on the tag.
Area Rug Cleaning Cost
"How much does it cost to clean an area rug?"
The following are some general examples for the price you might pay for Oriental and area rug cleaning:
The cost for cleaning a domestic rug is about $2.00 per square foot.
The cost for cleaning a synthetic area rug is about $3.00 per square foot.
The cost for cleaning a machine-made rug is about $4.00 per square foot.
The cost for cleaning a hand-tied or handmade Oriental rug is about $4.50 per square foot.
The cost for handwashing specialty rugs, tapestries, etc. is about $7.50 per square foot. The tassels and/or fringes are included in the size of your rug.
Prices may vary. Additional taxes, services and fees not included.
Factors that Influence the Cost of Oriental Rug Cleaning
It's important to note that all types of rugs can be cleaned. Their current state will determine how clean the rug will get, but our technicians are always up-front when setting expectations about the cleaning process.
The following are the main factors that the rug professionals at Fuzzy Wuzzy consider when pricing an Oriental rug cleaning service:
Rug Construction
First you should know how your rug was made. Is your rug machine-made, handmade, tufted or hooked? If you have any questions about the construction of your rug, give us a call.
Next you should know what type of material your rug is made of. Rugs are made out of a variety of materials, including wool, silk, cotton, sisal, jute, animal skins and synthetic material. The wool rug cleaning cost Persian rug cleaning cost is essentially the same as any other type of fiber.
Rug Integrity
It's important that you know how old your rug is and the last time it was washed. Older rugs may be worn thin and require repairs. With your approval, our technicians will first clean the rug, then assess the damage and contact you about whether you'd like to proceed with repairing the damage.
Rug Stains
Routinely cleaning your rug is key to extending its lifespan. A rug that receives a proper professional cleaning on a regular basis can last hundreds of years and still look great.
Dust, soil and dirt break down rug fibers over time and chip away at that lifespan. Our technicians deal with all types of stains, but we commonly see pet urine and feces, wine stains, coffee stains and cat vomit on rugs. These stains and odors can be removed by our experts.
It's OK if you don't know every single detail about your Oriental rug. That's totally normal. We understand that your rug may be older and have had several owners prior to you. If you have questions about certain details, the rug professionals at Fuzzy Wuzzy are happy to help.
Interested in Oriental Rug Cleaning?
If you live in western Washington and are interested in having your Oriental rug cleaned, we have you covered. Since 1900, Fuzzy Wuzzy Rug Cleaning Company has offered unmatched service and support to its customers, and we want to help you.
Our technicians put each rug through our deep cleaning process, which is unlike dry cleaning rugs cost.
Contact us online — get a free estimate or schedule — or call us at 206-525-0058 today. Our team members are standing by to assist you through the rug cleaning process. We offer competitive prices and free pickup and delivery service.