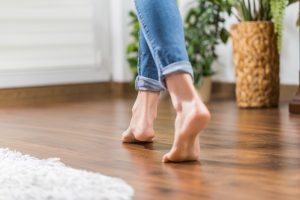 Bring your hardwoods back to life by removing deeply embedded dirt, soil, and the buildup of unwanted cleaners and polish. Using our thorough cleaning and protective process, Fuzzy Wuzzy can restore your hardwoods to "like new" condition.
Our customers love our hardwood floor cleaning service. Fuzzy Wuzzy can revive your old wood floors at a fraction of the cost of sanding and refinishing.
Keep the Character of Your Hardwoods
The little marks and stresses that make your wood floors unique are not impacted by our hardwood floor cleaning services. We only buff the top layer, preserving the personality of your floors.
Let Fuzzy Wuzzy's experts put their professional touch on your hardwood floors.
Remove Wax Buildup from Hardwood Flooring
Many popular hardwood floor cleaning products include soaps and mopped or rubbed on finishes. The idea behind these cleaners is that they will keep your floors pristine. But over time, you are inevitably left with a wax buildup that just attracts more dirt.
Let Fuzzy Wuzzy's experts transform your floors from that hazy, white appearance to "like new" condition. We use the proper tools and techniques to cut through the wax buildup and restore your floors the right way.
Getting rid of that buildup is key if you want your wood floors to look their best, and since you invested in hardwood flooring in the first place, you probably do.
Our Professional Hardwood Floor Cleaning Process
There's no need to refinish your hardwood floors if they only have minimal scratches or a buildup of dirt from foot traffic and cleaning products.
Fuzzy Wuzzy's professional hardwood floor cleaning and buffing process is the only thing you need to restore your floors to their original look and feel.
Our hardwood floor cleaning service includes:
Remove all furniture
Pre-vacuum area
Apply specialized wood floor cleaning solution
Clean with floor machine and absorbent pad to lift and suspend deeply embedded soils
Thoroughly rinse and extract suspended soils
Hand clean edges and baseboards
Apply neutralizer to prepare surface for protectant application
Apply protectant to surface
Post cleaning inspection
Reinstall furniture
Schedule Online or Call Today
Call the team at Fuzzy Wuzzy for all your hardwood floor cleaning needs. Our qualified and experienced technicians will arrive on time and perform all work to the highest industry standards. Upon completion, all work is thoroughly inspected to make sure your home, business or office looks its best.
If you would like to schedule a service appointment, fill out the online form below or call us at 206-525-0058.
Schedule Online Now!
Serving Western Washington
With eight locations throughout Western Washington, Fuzzy Wuzzy offers unparalleled convenience and service to our customers. If you have any questions or comments about our hardwood floor cleaning service, contact us online or visit us in person.
Seattle Hardwood Floor Cleaning Review
Fuzzy Wuzzy Rug Cleaning Company is very good at what they do! The service technician who came out worked very hard! He showed up on time and really got right into business.