Bring your hardwoods back to life by removing deeply embedded dirt, soil, and the buildup of unwanted cleaners and polish. Using our thorough cleaning and protective process, Fuzzy Wuzzy can restore your hardwoods to "like new" condition.
Our customers love our hardwood floor cleaning service. Fuzzy Wuzzy can revive your old wood floors at a fraction of the cost of sanding and refinishing.
Keep the Character of Your Hardwoods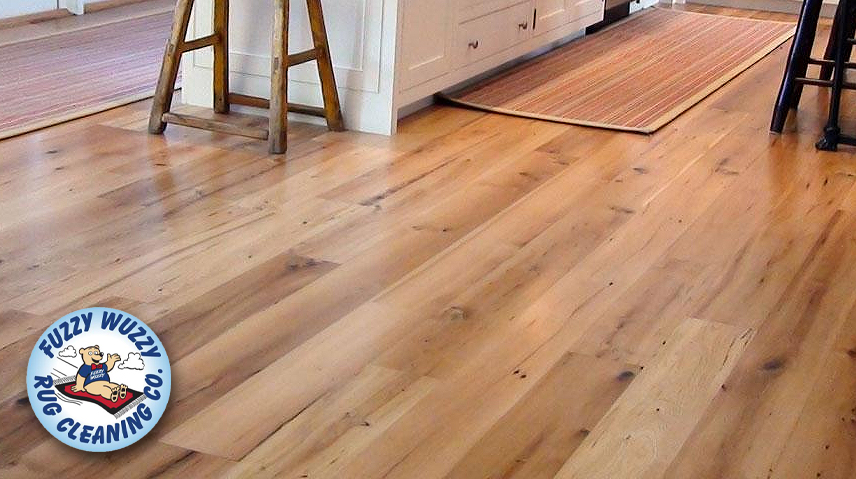 The little marks and stresses that make your wood floors unique are not impacted by our hardwood floor cleaning services. We will preserve the personality of your floors.
Our intensive cleaning process cleans below the surface. Our method extracts hidden dirt deep within the boards. In the process, we help improve indoor air quality, circulation, plus rejuvenate your hardwood floors.
We follow this professional cleaning procedure:
1. A Fuzzy Wuzzy technician will show up to your home on time, in a Fuzzy Wuzzy branded vehicle.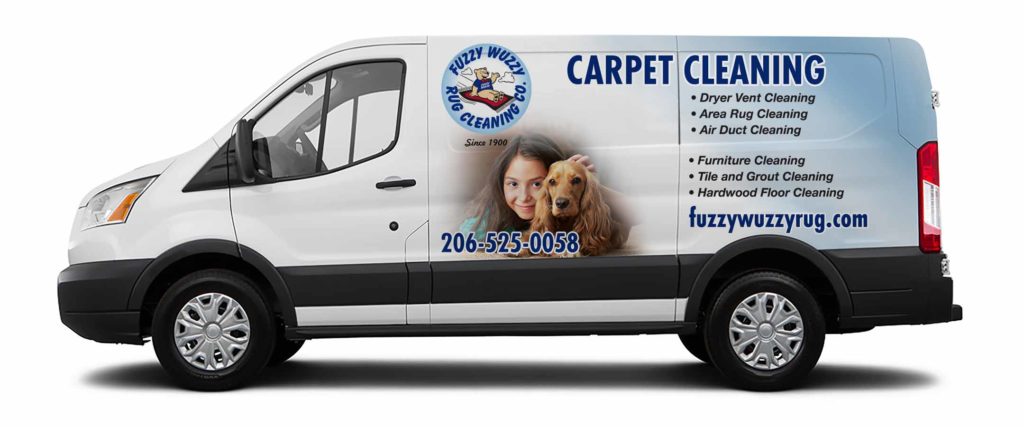 2. The technician will greet you and review the services you have requested, explaining our hardwood floor cleaning process in detail.
3. The technician will ensure that your home is prepared for cleaning, ensuring that all furniture is moved out of the way.
4. The area is then vacuumed to remove all pieces of dirt and debris.
5. A specialized wood floor cleaning solution — Eco-friendly and safe for your children and pets — is then applied to the floor.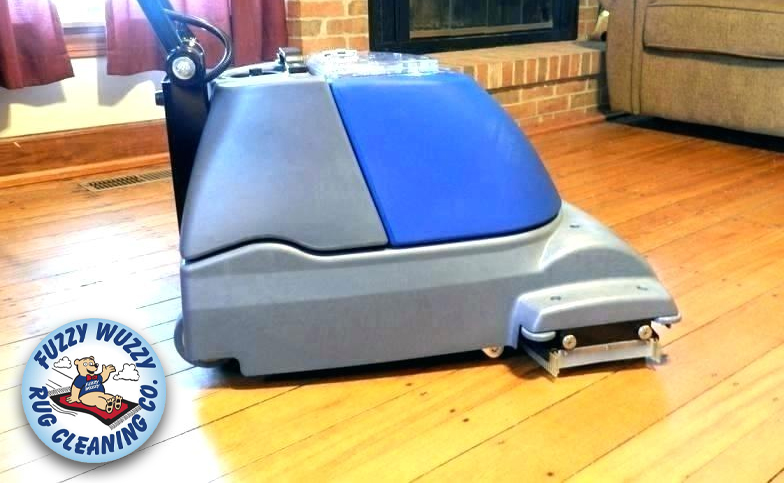 6. The technician then utilizes Fuzzy Wuzzy's walk behind floor scrubber. The machine aggressively attacks tough dirt. The cylindrical action agitates and loosens embedded dirt and residue trapped deep between the floor boards that mopping or daily maintenance can't remove.
7. The cleaning solution is extracted quickly from the floor with squeegees, leaving the floor dry and clean.
8. The edges and difficult to reach corners are thoroughly cleaned by hand using a microfiber cloth to capture dust and debris.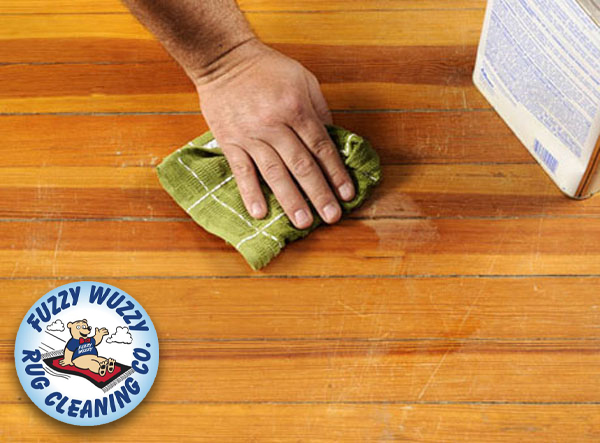 9. The technician will conduct a post-cleaning inspection with you. All work is reviewed and you have a chance to ask any questions you may have.
10. The technician will thoroughly clean up all materials, gather their things and leave your wood floors sparkling.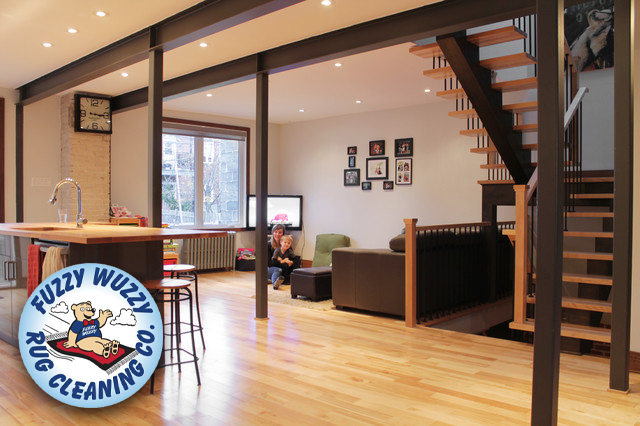 There's no need to refinish your hardwood floors if they only have minimal scratches or a buildup of dirt from foot traffic and cleaning products.
Fuzzy Wuzzy's professional hardwood floor cleaning and buffing process is the only thing you need to restore your floors to their original look and feel.
Remove Wax Buildup from Hardwood Flooring
Many popular hardwood floor cleaning products include soaps and mopped or rubbed on finishes. The idea behind these cleaners is that they will keep your floors pristine. But over time, you are inevitably left with a wax buildup that just attracts more dirt.
Let Fuzzy Wuzzy's experts transform your floors from that hazy, white appearance to "like new" condition. We use the proper tools and techniques to cut through the wax buildup and restore your floors the right way.
Getting rid of that buildup is key if you want your wood floors to look their best, and since you invested in hardwood flooring in the first place, you probably do.
Request a Quote or Call Today
Call the team at Fuzzy Wuzzy for all your hardwood floor cleaning needs. Our qualified and experienced technicians will arrive on time and perform all work to the highest industry standards. Upon completion, all work is thoroughly inspected to make sure your home, business or office looks its best.
If you would like to get a free quote for a service appointment, fill out the online form below or call us at 206-525-0058.
Serving Western Washington
With eight locations throughout Western Washington, Fuzzy Wuzzy offers unparalleled convenience and service to our customers. If you have any questions or comments about our hardwood floor cleaning service, contact us online or visit us in person.
Seattle Hardwood Floor Cleaning Review
Fuzzy Wuzzy Rug Cleaning Company is very good at what they do! The service technician who came out worked very hard! He showed up on time and really got right into business.