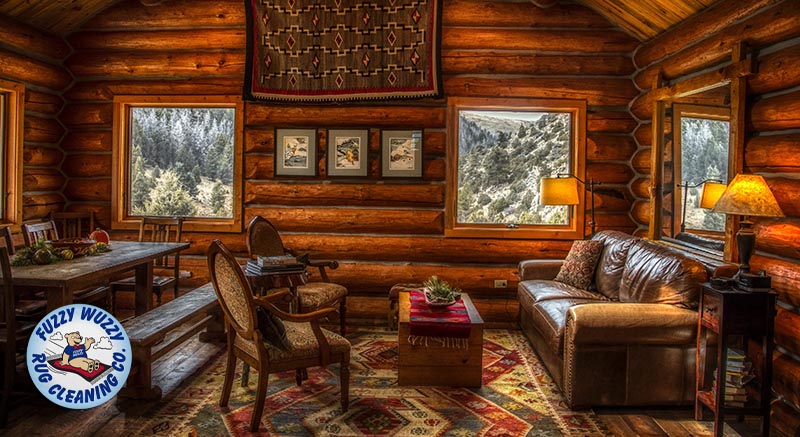 As the temperature drops and the weather turns, you've probably noticed that your rug doesn't look as good as it used to.
That's normal. But you can do something about it.
While there are many things to remember during the holiday season, here are a few key reasons why you'd be smart to have your rug professionally cleaned this time of year.
Benefits of Cleaning Area Rugs
1. Freshen Up Your Home
It's inevitable that your favorite area rug will become worn down over time. Over the course of the year, your rug will get dirty, dingy and matted down from everyday life.
If you've made the choice to invest in a quality area rug, you'll want to take care of it and have it regularly cleaned. As the weather turns colder and you spend more time indoors, you'll likely notice the condition of your rug and its need for cleaning.
2. Impress Guests
During the holiday season, you may be entertaining friends and family in your home. One of the first things those guests will notice is the cleanliness of your home, particularly the floor they're walking on.
A well-placed area rug can pull a room together and give it a cozy, inviting feeling. If that rug is expertly cleaned and cared for, your guests will fall in love with your home. Your guests will notice the difference a clean area rug makes in your home, and you'll have the confidence in knowing your home looks its best.
3. Protect Rugs From Stains
While a professional cleaning will make any rug shine again, protecting it from stains and spills is an added benefit that many enjoy during the winter months.
Professional rug cleaners can apply an optional protectant (Scotchgard) to the surface of your rug. Scotchgard works by creating a protective barrier around your rug. It pushes liquid spills to the surface and forces it to bead up. This makes cleanup a breeze.
Scotchguard is non-toxic and safe to use around family and pets. It is also Chlorofluorocarbon (CFC) and solvent-free.
With protectant applied to your rugs, you will be able to sit back and relax instead of stressing about what's being spilled on your precious rugs.
4. Start the Year Off Right
Having your rug cleaned in the winter means you will enjoy it the most. You're already spending more time indoors now — get your home as clean as possible.
Cleaning a rug during the winter months gives you an entire year of cleanliness. A full year of activity and the dirt that goes along with it will accumulate on your rug before its ready to be done again next winter.
5. Extend the Life of the Rug
Every rug manufacturer will recommend that you have your rug professionally cleaned at least once a year, perhaps more if the rug is highly valuable. This ensures that the rug looks its best for a calendar year, and that it also keeps its condition for your lifetime.
A rug that is not regularly cleaned may deteriorate or lose its colors over its lifespan. But if you choose to keep up with regular cleaning, your rug will almost certainly last your lifetime and hold up over the years.
Dirt, sand and grit on your floors can act as sandpaper to rug fibers as you walk over it. This sandpaper effect wears and discolors the fibers of the rug, making it look bad while also taking years off its life.
6. Bugs, Bugs, Bugs
If you've owned rugs for any amount of time, you may have heard horror stories about a rug being infested with moths. Once a rug has been found containing moths, it must be fumigated and cleaned by a professional to correct the issue.
Moths are attracted to the wool fibers found in rugs. Rugs can harbor these insects if they contain food or beverage stains, blood, urine, perspiration or other sources of nutritional protein.
Regular rug cleaning will remove the nutritional contaminants that can attract and support insects.
7. Improve Indoor Air Quality
Don't be fooled into thinking your rug doesn't need to be cleaned just because you can't see anything. The real danger can be from what's living inside the rug and the air coming off it.
If you've noticed yourself or family members sneezing or sniffling more than usual, you might be best served having that area rug professionally cleaned. Allergens and dust mites make their home in your rug, and a quick in-home vacuuming won't solve the problem.
A rug can act as a filter that collects dust and dirt particles that can grow mold and allergens. In severe cases, bacteria and viruses can live inside the fibers of the rug and wreak havoc on the quality of your indoor air.
Area Rug Cleaning in Western Washington
The benefits of area rug cleaning during winter are clear. At Fuzzy Wuzzy Rug Cleaning Company, we understand that your time is valuable and your lists of tasks are long. That's why we're here to take care of your area rug cleaning — giving you more time with your loved ones and a healthier, cleaner home.
Fuzzy Wuzzy is the Pacific Northwest's premier provider of rug cleaning services. Established in 1900, our cleaning facility features the region's only Turkish-built cold water bath and a state-of-the-art drying room. You won't find another local company that can match our track record cleaning rugs.
The cleaning process takes one week and free pickup & delivery is included. Make the call today and let Fuzzy Wuzzy bring your area rug back to life.
For a limited time, save 40% on area rug cleaning by using promo code RUG40. Mention over the phone at (206) 525-0058, text us at (206) 887-9485 or contact us online for a free quote.