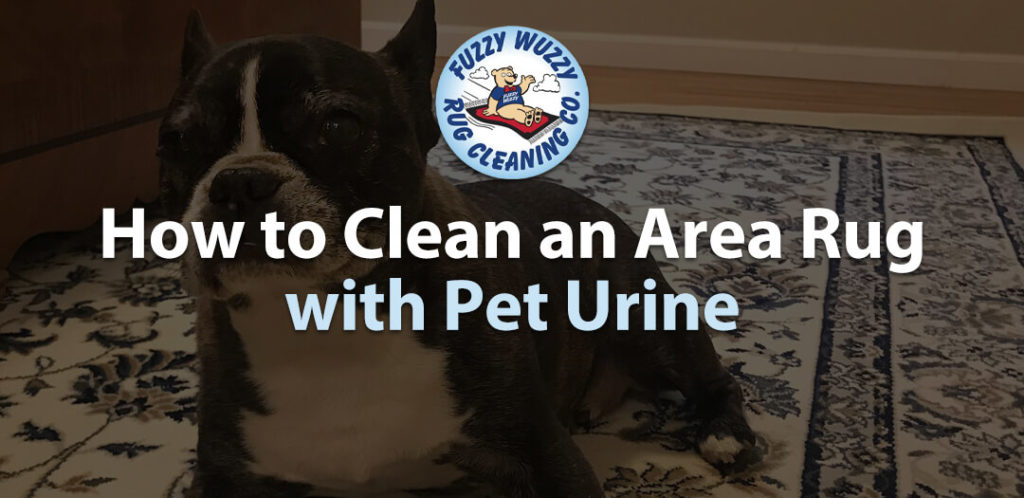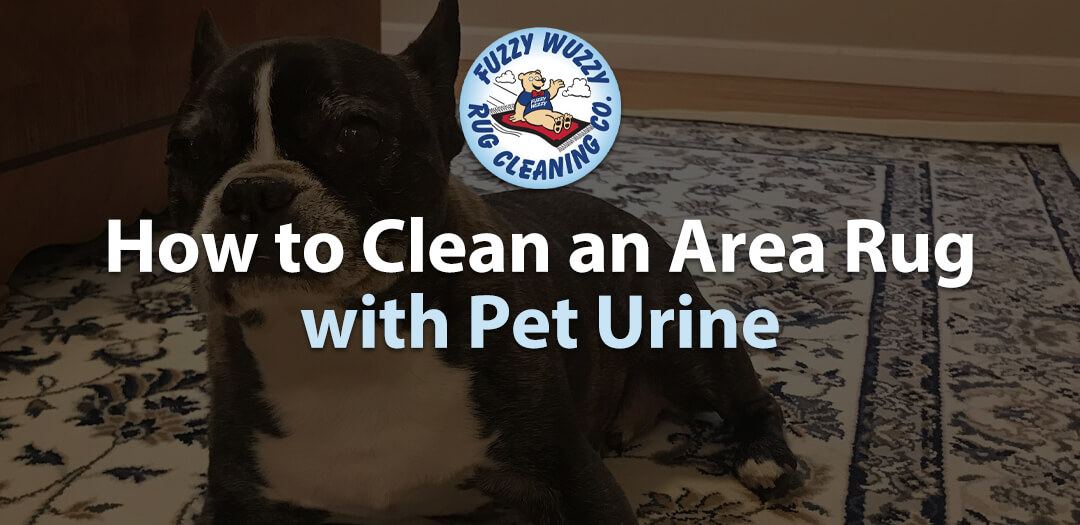 Looking for how to clean an area rug with pet urine? You've come to the right place. Fuzzy Wuzzy Rug Cleaning Company is the Seattle's area's oldest and most trusted cleaning company and our technicians are experts in everything rug related.
Cleaning pet urine out of a rug is tricky, but it can be done. Read on for solutions to your area rug cleaning pet urine problems.
How to Clean an Area Rug with Pet Urine
The cleaning solutions described below use vinegar and hydrogen peroxide. If you are worried about the colors running on your rug, test on an area that won't show. Never use bleach on an area rug.
So how do you go about cleaning dog pee from rug? Here's how:
1. Blot up the pet urine if it's still wet. Use paper towels and other materials to soak up as much of the urine as you can. Repeat this process until you can no longer soak up any urine.
2. Mix up a solution of 50% white vinegar and 50% cold water.
3. Using the vinegar solution liberally, scrub it into the urine stain, making sure it penetrates the fibers below.
4. Blot the area again with the paper towels, removing as much of the vinegar and water solution as possible.
5. Mix ½ cup of 3% hydrogen peroxide with a teaspoon of liquid dish-washing detergent. If you don't have hydrogen peroxide, you can use a spray laundry stain remover. Scrub the area with the solution and rinse with water.
6. Once the area has dried, sprinkle a liberal amount of baking soda over the stain. Let it sit for a while, then vacuum it up if you wish.
Note: Do not use ammonia-based cleaning products to clean up pet urine. Dog urine actually contains ammonia, and using ammonia-based products will only make the problem worse.
Dog Pee Stain Removal
If the above process does not fix an old pet urine stain, you can always try a neutral spotting agent such as Spot Begone or detergent vinegar solution. These are not guaranteed to work, and the longer the pet urine sits in your rug, the harder it will be to remove.
If you have a darker color rug, you may not be able to see all the pet urine stains. Use a black light, found in most pet supply stores, to identify all the problem areas.
Our technicians typically see pet urine stains in lighter colors — white, beige and light blue. Pet urine pulls the darker color dye or tannins out of natural fiber rugs such as cotton, jute or wool.
Pet urine stains are often confused with a coffee spill. The urine leaves a light brown ring. But the smell will eliminate any confusion.
If you're wondering how to clean dog urine from area rug or how to clean dog urine from wool rug, contact Fuzzy Wuzzy online or call 206-525-0058.
How to Get Dog Pee Smell Out of Rug
First we'll quickly explain why pet urine smells so bad.
When your pet urinates on a rug, the residue that is left behind is salt crystals, and when the moisture evaporates the crystals are left behind. The salt crystals react with the air, producing a foul gas that we smell.
You have likely seen many products that claim to "remove" pet urine odor from rugs. Unfortunately, many of these are too good to be true. They are simply cover-ups or perfumes that mask the smell of the odor. These products put a stronger scent on top of the urine smell, and are temporary at best.
To really attack the source of the dog pee smell in your rug — the salt crystals — the job is best left to the professionals.
Fuzzy Wuzzy uses a specialized pet urine odor-fighting enzyme treatment to eliminate those smells. The enzyme treatment can digest the urine salts. A low PH treatment is used to dissolve the urine salts. This process is almost always best handled by professionals — the enzyme needs to saturate the area while staying wet for over 24 hours.
The enzyme treatment can leave a sticky residue behind, but our technicians carefully rinse the rug and inspect it prior to drying.
Contact the Experts at Fuzzy Wuzzy
We hope this guide gave you a better idea of how to clean an area rug with pet urine. If you have any questions, please reach out.
If you would like to discuss your area rugs and how Fuzzy Wuzzy can bring them back to life, you can call us any time at 206-525-0058. If you would like to schedule a pick up, you can contact us online. Carpet Cleaning Seattle